The Family Of A Young Biracial Boy Says He Was Hung By A Rope By Teenagers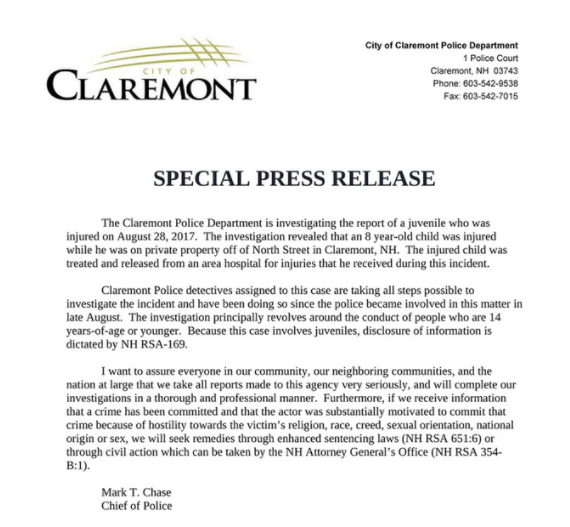 View Video ›
facebook.com
The family of an 8-year-old biracial boy in Claremont, New Hampshire, said a group of teenagers hurled rocks at him, called him racially charged words, and then pulled a rope around his neck and hung him.
The boy's grandmother, Lorrie Slattery, said the incident occurred on an afternoon in late August when her grandson was playing with teenagers in the neighborhood in a backyard.
"The (teenagers) said, 'Look at this,' supposedly putting the rope around their necks," Slattery told the Valley News. "One boy said to (her grandson), 'Let's do this,' and then pushed him off the picnic table and hung him."
The alleged details of the events are based on Slattery's account, which itself is based on what the boy and his 11-year-old sister, who was present, told their mother, Cassandra Merlin.
The boy's uncle, Lyric Merlin, posted a photo of the boy's injured neck on Facebook on Aug. 28, the day of the alleged incident.
"My nephew was hung from a tree by a 14yr old who claims 'it was an accident," Merlin wrote. "I don't care what kind of excuse this teenager has but you DO NOT play with somebody's life."
BuzzFeed …read more
Source:: BuzzFeed – US News
(Visited 1 times, 1 visits today)
---